When you come to see me I will ask about your current health concerns. I will also ask about your medical history, current medications and any supplements you may be taking. In Chinese medicine details of sleep, appetite, digestion, energy, menstruation, and pains are considered important for an overall diagnosis. I will also look at your tongue and take your pulse.
*Please inform me if you have any allergies.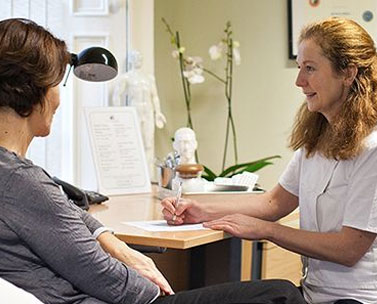 After the initial consultation I make up a prescription of Chinese herbs with creams and washes if required. Initially I will give you enough herbs for one week and arrange for a follow-up appointment.
The follow-up appointment is a 30 minute appointment in which I will discuss any problems you may be experiencing with the herbs. Diet and lifestyle are also discussed. The food we eat and how we live are considered to play a role in your healing process. Yangshen (lifestyle and dietary advice) is an important aspect of Chinese Medicine.
After the Follow Up appointment I will make up enough herbs to last either 2 or 4 weeks depending on the condition. I monitor improvements and changes  before I make up any subsequent herbal prescriptions for you. Longer or more chronic conditions term treatments may require periodic consultations.
Because we are all unique, the herbal remedies, creams and washes are made up especially for you. Once the formula has been made up for you it cannot be exchanged or refunded.
How to take your herbal preparation:
The herbs are taken as a tea which you drink over several days depending on your illness. If necessary I may prescribe dried processed herbal powders or pills.
Treatment duration:
This can vary depending on how long you have had the condition, or how severe it is. For example a cold or cough may only take a few days to improve, whereas gynaecological conditions, fertility and hormonal acne will take at least 3 months and often 6 months or more to resolve.
Amanda is now available for consultations on Skype
Please call her on 086 1593170 or email her at mail@fitzwilliamhealth.ie to schedule a consultation.
Amanda is following the recommended health guidelines. Treatment guidelines will be emailed prior to your appointment.
Tongue diagnosis is an important aspect of Chinese medicine diagnosis. For Zoom consultations and prior to attending your acupuncture appointment, please can you watch this clip from Youtube and  send a picture of your tongue to 086 1593170. Thank you